Professional Development for Educators
Qumark Global Solutions, in partnership with ASAP Elearning, has been providing world-class professional development programs for school administrators and teachers for over 17 years. Online assessments designed to pinpoint learning needs, and standards-based course modules to meet those needs, allow school districts to build educational capacity, while saving time and money. Our programs can be used to supplement a school district's existing professional development program, or as standalone programs. Academy options, complete with mentors and in-house events, are also available.
Education professional development programs include:
The Accelerated School Administrator Program (ASAP®) uses a combination of online assessments, case studies, learning modules and standards-based content to help fill the shortfall of qualified principals more efficiently and at a significantly reduced cost. ASAP is based on the latest revision of the 2015 NPBEA standards (formerly ISLLC). ASAP is designed to be delivered in a blended learning format in support of district programs, and can be provided as a stand-alone or customized solution based on district PD needs.
Teacher Essentials® provides a comprehensive learning library for teachers wanting to "unconference" their professional development. Teacher Essentials® lessons can be used as a catalyst for discussion during professional development events, focusing the group on a specific topic area. Alternatively, teachers can select what they want to learn from the catalog and work in groups of any size, or as individuals to build instructional strategies in areas of personal interest or need. Anywhere, anytime access means the lessons will fit any schedule.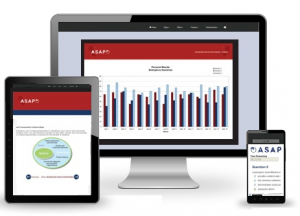 Designed with ease of access in mind
Fully responsive tools that work great on computer screens and most mobile devices.
Access your learning content anytime, and anywhere you have an Internet connection.
Some content is downloadable so you can plan to work offline.
Assessment reports provide detailed insight into strengths and areas for development.
Custom PD Programs
Qumark and ASAP Elearning design and build custom professional development programs for educators. Contact us to find out more.